Danfoss teamed up with us to revolutionize frequency converters
About the Company
Danfoss Drives is a world-class provider of frequency converters. Danfoss Drives production factories are located in 7 different countries around the world, counting with more than 4000 employees where many of them are working with a number of manual screwdrivers, each day.
The Challenge
To replace manual screwdriving, Danfoss has reached out to Spin Robotics to look for a reliable, flexible, and precise screw-driving solution. At Gråsten, the company is producing frequency converters which are mechanical constructions combined with electronic components. Frequency converters are electronic or electromechanical devices that convert alternating current (AC) of one frequency to alternating current of another frequency in order to decrease overall power consumption. Because frequency converters need to be fastened together with a multitude of screws and require a high accuracy, Danfoss was looking to ensure that with a collaborative robotic solution. By using a collaborative screwdriver, Danfoss can combine using the collaborative robot for repetitive, simple tasks whilst enabling its employees to do tasks with more autonomy and added value. This has positive impacts on the products' quality and cost because of the robot's precise screw sequencing and parallel movements to the movements of an employee.
The Solution
The SD35 collaborative screwdriver could in the future help the company to achieve its main goal of heightened quality while keeping their employees the topmost priority by ensuring a fully safe working environment. For Danfoss, the difficulty with manual screw-driving stems from employee's fatigue due to which the order and tightening of screws can be sub-optimal, leading to wasted products and materials that cannot be shipped to an end-customer. Frequency converters also require horizontal screw-driving. Horizontal screw-driving has been identified to be especially problematic in terms of quality. That is because the tightening torque can seem correct but if it is applied at a wrong angle when the screw is getting inserted, the screw will not be inserted correctly. When making decisions about new automated solutions, the bottom line for Danfoss is their employee safety. Production workers doing manual, repetitive screw-driving for long hours encounter discomfort, and in many cases strains in their body, mainly in their shoulders, elbows, and wrists. The SD35 caught the attention of Danfoss because it is ergonomically designed to reduce employees' strain and it is also equipped with unique safety features: a safety sensor with a level-d performance and a safety shield that protects employees from piercing injuries.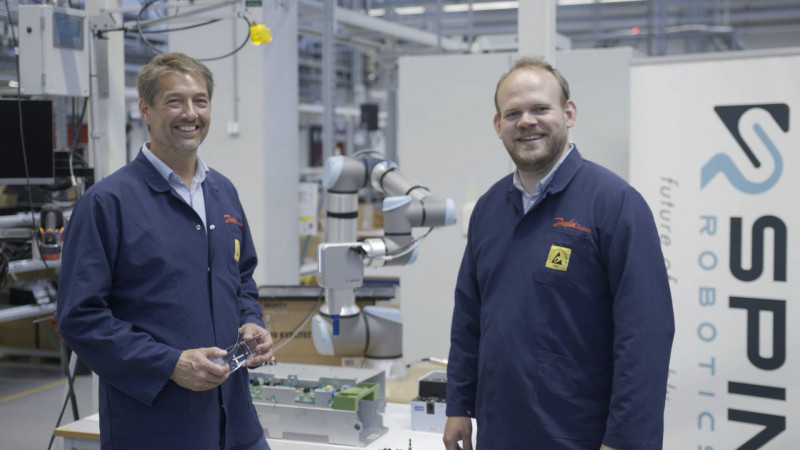 "My experience, so far, with the SD35 collaborative screwdriver is very promising – I'm looking forward to seeing it in a real working area. Spin Robotics is very glad to have been able to help Danfoss to see new possibilities for optimizing their production and we are looking forward to a future collaboration!"
Kristian Thorsen
Platform Architect at Danfoss
Challenges Solved
Mistakes in the screw order
Mistakes in the tightening torque both in vertical and horizontal screwdriving
Employee injuries from repetitive motions
Hard to scale up production
Complex assembly where two manual screwdrivers and a large construction is needed
Key Value Drivers
Precise screw insertion, following the programmed order
Precise insertion torque due to the tool's torque monitoring
Unique safety features: a) Built-in safety sensor with level-d performance b) Safety shield that protects employees from piercing injuries
Easy to produce many parts in a row
Versatile screwdriver which can switch between multitude of different